Dr Josh Rich
BSc (Hons) BVM&S
Josh graduated from the University of Edinburgh in 1990. He also has an intercalated honours degree in pathology. He grew up in a house full of dogs, cats and horses, his step mother bred Maine Coons and his grandparents bred Poodles and Bull Terriers (though never together!)
Upon graduation Josh went into mixed practice in the wilds of Yorkshire and was granted a 4 month sabbatical which he spent in Mauritius working with an SPCA team neutering the local pets from a mobile surgical unit. He returned to practice in Yorkshire for a further 2 years but his interest in travel had been sparked and he left to work in Greece, Hong Kong, Australia and the Bahamas.
Josh worked in a small animal practice in the Bahamas for 2 years. One of the highlights of this time was being involved in the veterinary care for the dolphins at The Dolphin Experience Freeport, Grand Bahama.
However Australia called and in 1998 Josh made his third and final visit, moving to the Mornington Peninsula, originally to cover a one year sabbatical leave for one of the partners at Peninsula Vet Hospital in Mt Eliza. Josh then spent 4 years at Frankston Heights Vet Centre and in 2000 he gained membership to the ACVS (Australian College of Veterinary Scientists) by examination in Veterinary Radiology.
In 2004 Josh and Camilla purchased Mt Martha Veterinary Clinic, realising a long held ambition to own and run their own practice.
Outside the clinic Josh loves to spend time with his four girls. When he needs to seek refuge from the perfect storm of females, he enjoys working out at the gym and running. Josh also loves to read historical novels. He is a self confessed news junkie and 'tragic' for anything written about Ancient Rome!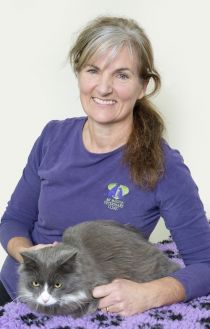 Dr Camilla Babington
BVSc (Hons)
Camilla graduated with honours in Veterinary Science from Melbourne University in 1987. She started work in a busy mixed practice in Bacchus Marsh for 2 years before leaving for the UK on a working holiday.
The working holiday that was planned for a year lasted seven! Camilla worked for two years in a very busy small animal clinic in East London then she gradually moved north doing a string of locums to vary her experience. Eventually she settled for three years in Newcastle upon Tyne where she ran a branch practice that was part of a four clinic mixed practice. Her fondest memory of this time was driving over the moors in the snow in the depths of winter to deliver a triplet of lambs – her James Herriot era.
Eventually it was time to come home and Camilla shipped herself and her dog home. Moose the Yorkshire rescue dog has long ago passed on, but was epileptic, had a false hip and needed four separate gut surgeries – she chose the right owner!
Camilla then worked at the Animal Emergency Centre in Mt Waverley and gained her Membership of the ACVS by examination in Emergency Medicine and Intensive Care in 1999. She stayed at the AEC until 2005 and maintained her love of emergency medicine with part time work at the Hallam AEC, until the arrival of Camilla and Josh's third child at the end of 2006.
Camilla thoroughly enjoys the relationships that are forged in a small practice with pets and their owners. After years of emergency work she loves to see healthy animals and keep them that way, and has a soft spot for the geriatric patient. She is still interested in intensive care and many a patient has spent the night in the lounge room on a drip with a fluid pump.
Camilla and Josh live in Mt Eliza with their three daughters. They share their home with a variety of animals, currently a beautiful ginger tom (who rejoices in the name of 'Lord Corville Munro the Invisible Space Cat'), four chickens and two rabbits.
In their 'spare time' Camilla and Josh are Puppy Educators for Assistance Dogs Australia. In 2017 they took on their first foster puppy Minty the Labradoodle. They looked after Minty under the watchful eye of their amazing ADA trainer Kristin until she was ready to go to the ADA National Training School in Sydney (or 'Doggyversity' as Josh calls it). Minty is now on working as an Assistance Dog in country NSW.
Minty in training at 9 months
In 2021 Camilla Josh and their girls were ready to take on another puppy for ADA and were delighted to welcome 'Bronson' a beautiful Black Labrador into their family. Needless to say we've all fallen for him big time!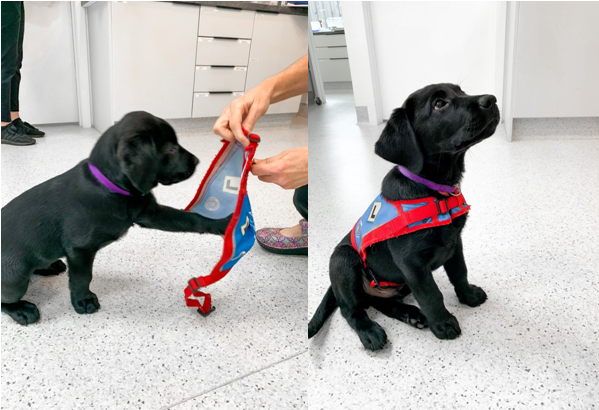 Bronson newly arrived at 8 weeks
Josh and Camilla are grateful to Assistance Dogs Australia for entrusting the care of this beautiful dog to us and are proud to be helping him prepare for his very special role in life.
If you are interested in becoming a foster carer for ADA please visit https://www.assistancedogs.org.au/about-us/training-an-assistance-dog/
Minty and Bronson both appear elsewhere on our website – tell us where for a prize!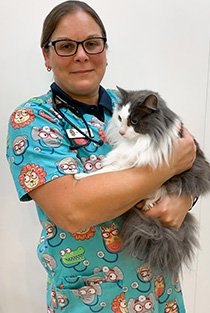 Dr Kerrilee Luxford
BVSc (Hons)
Kerrilee grew up on the Mornington Peninsula, graduating from Melbourne University in Veterinary Science in 1999.
After two years in rural mixed practice, she returned to the Peninsula to work with Dr Josh Rich at Frankston Heights Vet Centre for 3 years before leaving again to pursue a farming dream in Aquaculture, near Echuca. The drought forced her return to Melbourne where she has enjoyed 5 years with the RSPCA Peninsula and a further 6 years at Korumburra-Kooweerup Vet Clinics, meanwhile raising two boisterous young boys and managing her family online aquaculture business.
Kerrilee enjoys the relationships made in small animal practice with both the owners and their pets.
Her veterinary interests lie in skin & ear problems, eye diseases, and pet behavioural challenges.
More recently she has also taken a deeper interest in Feline Medicine.
She has spent many years competing in Canine Agility and has been involved in positive dog training and puppy preschool classes.
At the moment, her pets consist of an aviary full of rescued birds. But her family are on the lookout for a new puppy who can keep up with them on their bush walks and hang out with them on weekends at the local footy club!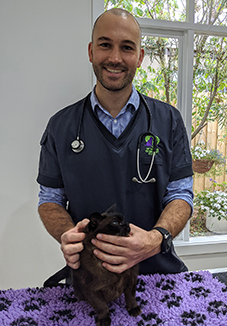 Dr Peter Bradbrook
BDSc, BVSc (Hons)
Peter graduated from Melbourne University in Veterinary Science in 2010 since then he's worked in general small animal and rural mixed practice in Victoria and the UK. Since 2016 he has done occasional locums for us. Now with our new pet hospital he's become a regular. Peter has a particular interest in Veterinary Dentistry…so great in fact that he decided to go back to school and in 2019 he graduated from La Trobe University as a fully fledged human dentist! In the long term Peter aims to combine the two disciplines and specialize in Veterinary Dentistry. In the meantime he enjoys being part of our team and getting to know the pets of Mt Martha. We're very grateful to have Peter on board with his winning smile experience and unique skillset.
Peter grew up on the Mornington Peninsula and in his spare time enjoys surfing swimming and mountain biking.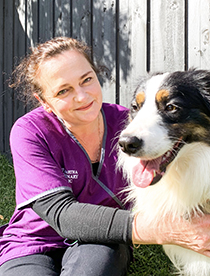 Suzanne
Veterinary Nurse
Having always had animals as a child I was interested in veterinary nursing. After high school work experience I was hooked and continued this path for the next 20 years ! During this time I acquired a Certificate 4 and a Diploma in Veterinary Nursing and years of clinical experience working in the UK and locally on the Peninsula including a few years in the early 2000's working alongside Dr Josh in Frankston. After having my children I decided on a career change working in business administration and customer service. Now my kids are older I've returned to the profession I truly love and was thrilled to get the opportunity to work again with Josh and Camilla. I'm enjoying being part of this fantastic team and am looking forward to my putting my experience to good use. Currently my menagerie consists of 2 dogs a cat a budgie and 7 chooks. Never a dull moment!
Hollie
Veterinary Nurse
I started as a trainee Veterinary Nurse at Mt Martha in December 2013. My first contact with the Veterinary industry was during year 10 work experience, I then continued working as a kennel hand whilst in high school. After three years of study I acquired my Certificate 4 in Veterinary Nursing in April 2017.
I have been a local on the Mornington Peninsula since moving here from England when I was 7 years old. I have Ned a Staffordshire Bull Terrier and Tilly the Boxer . I took both of them through our puppy school so when the opportunity arose I was more than ready to run our Puppy School in 2018-2019. I also enjoy travelling in my spare time and baking, you may even see me helping out at local markets with my sisters cake business.
In December 2019 I gave birth to a healthy baby boy, Miller and am looking forward to returning to the team in mid 2020.
Miranda
Veterinary Nurse
Since as long as I can remember I have been passionate about working with animals, beginning with nursing (with the help of my parents and a lovely veterinarian of course) my three legged bunny when I was five years old. Since then I have always had animals in my life. Currently my menagerie consists of two horses, and a cat who is fairly convinced she is a dog! Until an injury recently intervened I was an enthusiastic ballroom dancer.
I have gone on to studying in the Natural Horsemanship and have been studying my Certificate IV in Veterinary Nursing. I am loving being a part of the Mt. Martha Vet Clinic team during this time, and I am very grateful for the opportunity to learn everything I can ! In May 2019 I completed my Certificate IV in Veterinary Nursing.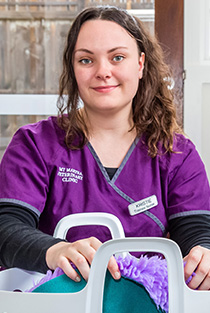 Kristie
Veterinary Nurse
I started working as a trainee nurse at Mt Martha Vet Clinic in 2019 and qualified as a Certificate IV Veterinary Nurse in June 2021. I've been working with animals for some time studying Animal Studies and working at the Lost Dogs Home.
I have two dogs, Cassie a rescued Brazilian Terrier (yup I didn't know they existed either), and Pepper an adopted Border Collie who lives with my parents. Of course, both are spoilt rotten! I have loved animals for as long as I can remember and always dreamed of working with them.
Outside of work I love spending time with my husband Matt (we married in April 2021), walking and exploring nature, taking photos on my camera, writing & traveling. Tennis has been a huge part of my life over the years too and I competed in the Victorian Juniors Pennant and Women's Pennant as a teenager
Chloe


Trainee Veterinary Nurse
I've enjoyed working at Mount Martha Vet Clinic so much that in 2021 I commenced Cert IV vet nurse training at Box Hill TAFE.
As a child, animals were an important part of our family, and caring for them was central to my upbringing.
As a teenager, my passion for equestrian sports was curtailed by injury so I looked to the Veterinary profession which had always been of interest.
My Vet Nursing career began in 2018 at a large practice in the Northern Suburbs, where I worked as a veterinarian's assistant and overnight nurse in the emergency ward whilst I studied Veterinary Bioscience at La Trobe University. At that first practice, I got the opportunity to learn a lot as I was exposed to a large and varied caseload.
In 2019 I relocated to the Mornington Peninsula to be with my partner Trent and my family, whilst also looking for a sea change. I was fortunate to find employment with Josh and Camilla and haven't looked back! I particularly enjoy the supportive environment that their practice offers and see our team as a little family.
I've enjoyed working at Mount Martha Vet Clinic so much that in 2021 I commenced Cert IV vet nurse training at Box Hill TAFE.
Trent and I have a dog called Betsy and 4 chooks who think of themselves as dogs. I spend my weekends exploring Victoria in our 4WD with my surfboard and longboard.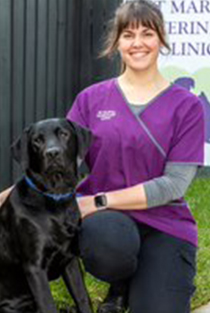 Primrose
Trainee Veterinary Nurse
I remember wanting to become a vet nurse ever since I watched Dr. Harry as a child thinking how amazing his job was, being able to care for so many animals and meet so many wonderful people. Then it was Dr. David Attenbrough who inspired my love of animals in the natural world. After a few career changes involving customer service roles and as a Cross Fit trainer, I finally landed where my heart is, training to be a Veterinary Nurse doing my part to help animals.
In early 2021 Josh and Camilla took me on allowing me to fulfill my long-held ambition, to become a fully-fledged Veterinary Nurse. This opportunity has allowed me to enroll in the Cert IV VN training course at Box Hill TAFE. When I'm not being a veterinary nurse I split my time between creating in my art studio and working out in the gym. I have three gorgeous fur babies, twin cats Lucy and Finnick, and Teddy, the cavoodle
Chelsea
Veterinary Nurse
Here I am, right back to where it started! My vet nursing career began at Mount Martha Veterinary Clinic in 2007 as a trainee veterinary nurse. I was part of the team here for 4 years until I went to Germany and Austria in 2011, where I spent 1.5years before coming back to continue my veterinary nursing at another practice. When asked if I'm a cat or a dog person I have to answer BOTH. I simply can't choose as they are each so wonderful in different ways.
10 years on from when I first started here, I'm looking forward to seeing some familiar faces, meeting new ones and working with the team here to support you with all your pets preventative and therapeutic health care needs.
I live on the Peninsula with my partner Beorn and our two little boys.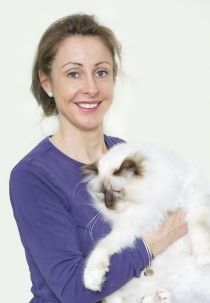 Sam
Veterinary Nurse
Sam was a key team member from 2004 until 2020 playing an important role in mentoring incoming staff. When in mid-2020 an opportunity arose in her partner's jewelry business she felt it was right for pastures new. Josh Camilla and all her colleagues wish her well in her new venture. We remain profoundly grateful for her 16 years of loyal service and the selfless contribution she made during that time.
Sam of course does have trouble staying away from us, so if you're lucky you will see her from time to time helping out when the others are away.